ADAMS COUNTY PA COMPANY 32
Northeast Adams Fire & EMS proudly protects over 25,000 people living in an area of 110 square miles. We operate out of two stations located in the Borough of East Berlin and the Lake Meade Community in Reading Township. We serve a primarily rural area in one of the best places to live in Pennsylvania.
Company 32 was established January 1, 2019 as a result of a merger between the former Liberty Fire Company No. 1 of Easter Berlin and the former Lake Meade Fire and Rescue.
We are here to serve our communities and need your support. We sponsor a umber of special events during the year. We welcome your participation at any of the events or fundraisers that we sponsor.
SPRING GROVE AREA AMBULANCE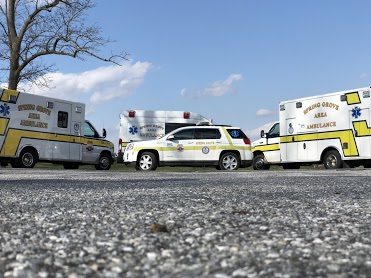 Spring Grove Area Ambulance Club is a Non-Profit Emergency Medical Service based out of Spring Grove, Pennsylvania. We currently operate out of 2 stations. Station 1, or the "Main station" is located in Spring Grove Borough, Station 2 is located at the North Codorus Township Fire Department. Our service currently provides Basic Life Support (BLS) & Advanced Life Support (ALS) to seven municipalities within York County Pennsylvania, as well as BLS and ALS non-emergency transports.