1657 Route 116

Spring Grove, PA 17369

Phone: 717-916-4900

E-Mail:

This email address is being protected from spambots. You need JavaScript enabled to view it.


Current News

UPCOMING LITTLE CREEK GOLF COURSE LEAGUES

Announcing upcoming programs for the 2018 golf season, held at
Little Creek Golf Course in Jackson Township. All programs will be
run by Fred Shultz, PGA Professional.
Programs being offered this season are as follows:

-April 27, 2018: 2-Person scramble to benefit Spring Grove Parks &
Recreation Center.

-Monday League: Mondays at 5:30pm starting April 23, 2018
registration begins April 16, 2018. League runs approximately 20 weeks.

-Ladies League: Wednesdays at 9am starting April 25, 2018
registration begins April 16, 2018. League runs approximately 20 weeks.

-Additional Evening Leagues and Daytime Senior Leagues forming now.
Call the clubhouse for information.

Please stop in at Little Creek for further details or call Fred Shultz
directly at 717-451-2059.
Hours of Operation: March -- November
March: As soon as weather allows, we will begin opening at 8AM.
April into October: Normal operating hours will be 8AM – 7PM Daily. During periods of inclement weather call the clubhouse at (717) 916-4900.
October until November: Hours will adjust to daylight length.
If at any time you want to play and you find the clubhouse closed please feel free to play using the "Honor System". There is a drop slot under the rear porch where you can find a score card and place your greens fee.

Sometime in May the stream restoration project of the creek that flows through front 9 will begin. At that time the front 9 will be closed and the process of converting the front 9 to a community park will begin. The back 9 will remain open for play. Please continue to enjoy golf on the back 9.
The longest tee the back 9 plays to 2,041 yards at a par of 32.
The back nine gives you the opportunity to use all your clubs since it includes 5 par 4's ranging in length from 265 yards to 373 yards. The terrain on the back nine is more of a gentle sloping character.
Hand Carts an gas carts are available for rent.
---
Greens Fees
Weekdays March – November
9 Holes - $ 12.00
18 Holes - $ 20.00
Weekends / Holidays March – November
9 Holes - $ 16.00
18 Holes - $ 24.00
Seniors 62 and Older, Veterans and all Jackson Township Residents
9 Holes - $ 10.00
18 Holes - $ 16.00
Junior Rate 16 and Under
9 Holes - $ 8.00
18 Holes - $ 15.00
Equipment Rentals
Hand Pull Cart:
$2.00 for Seniors, Veterans and Jackson Township Residents.
$4.00
Gas Riding Cart:
$6.00 per nine holes per golfer.
Available on the back nine and limited use on the front nine as conditions allow.
Golf Club Rentals
$2.00 for Seniors, Veterans and Jackson Township Residents.
$4.00
Group Rates available for parties of 12 or more.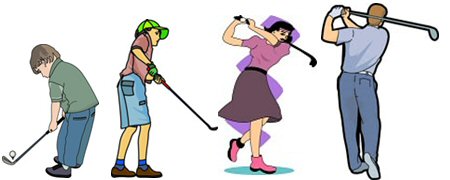 Little Creek is a great place for the family to enjoy the sport of Golf. Unlike larger public and private courses, Little Creek offers a slower pace where teaching and learning are emphasized.
Tournaments and group outings are available. If you are interested in a reservation or scheduling a Tournament event please leave your contact information with the Clubhouse attendant.


---