In February, 2010, the Board of Supervisors determined that the citizens of Jackson Township would benefit from entering into an Inter-municipal Agreement with Paradise Township and Spring Grove Borough to join the Spring Grove Regional Parks and Recreation Center. This membership provides a framework to adequately maintain community recreation and park services and facilities and to organize, manage, sponsor and supervise community events.
The Spring Grove Regional Parks and Recreational Center offers discounted membership fees to the Fitness Center and various fitness classes, Child Care, Kindergarten/Preschool, Camp Quest, discount tickets and rental opportunities to all residents of the participating municipalities.
Check out www.sgrprc.com or This email address is being protected from spambots. You need JavaScript enabled to view it. for more information.
Find out more about Jackson Township's Parks and Golf Course
Jackson Township Recreation Facilities Timeline
Proposed Plan for Little Creek Community Park
July 2020 Upgraded Plan for Little Creek Community Park
COMMUNITY PARK STATUS a rendition of the proposed park plan is included in the May 2017 newsletter and a larger version posted at the Township Office and at the Little Creek Golf Clubhouse. The following is the current project status.
Before any park construction can begin a stream restoration will occur on the entire length of the Little Creek stream that passes through the golf course front nine. The plan is to widen the meandering stream bed with tapered banks and a 100 feet wide riparian buffer of trees. The soil that will come from widening the stream is intended to be used to construct multi-purpose athletic fields. Two of those fields along with a proposed parking lot, pavilion, tot lot and part of the walking path are what make up Phase 1 of the park project.
A Pennsylvania Department of Environmental Protection (PA DEP) grant was received for $53,000 to plan, design and permit the stream project. Permits have been received. A grant application has been submitted to PA DEP for a large portion ($190,000) of the stream construction work. If we receive that grant by June of this year the stream work will likely begin late this summer. If we don't receive the stream construction grant in time this year, the stream project will probably occur in 2018. A grant of $98,000 from the York County Stormwater Consortium has been approved to help fund the $427,000 stream retoration that will give us water quality improvement credits that we are mandated by United States Environmental Protection Agency & PA DEP to achieve.
We have also recently received notice of approval of a Pennsylvania Department of Conservation and Natural Resources grant of $200,000 to be used toward the $535,000 cost of the Phase 1 park project. Contributions from the private sector have amounted to $20,000 to date in support of this project that will improve the livability and attractiveness of our community.
Going forward, the plan is currently to maintain the back 9 as a golf course and convert the front 9 to the recreation facility as designed.
If you wish to comment or make suggestions regarding the park project you can do so by either email: This email address is being protected from spambots. You need JavaScript enabled to view it. or by letter to the Board of Supervisors at the Township office address: 439 Roth's Church Road - Spring Grove, PA 17362.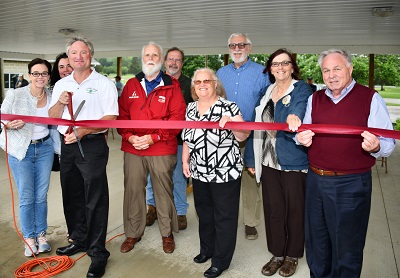 The Little Creek Community Park ribbon cutting ceremony was held June 11, 2021. Photo taken by John Freedman.